ACRHITECTURAL | DECORATE
SSP POWER CO., LTD.
We work with both domestic and international architects and have a group of leading architects in the country who have confidence in our services to produce the workpiece according to the desired design
Consultation on products and design
Contact Mr. Prachaya 089-204-7472 , 02-159-6043
Our services
SSP power provides construction parts molding services in various shapes and sizes using Fiberglass and GRP(Glass Reinforced Plastic) for interior and exterior design, building decoration, building wrapping, bending objects, and architectural work.
Fiberglass and GRP (Glass Reinforced Plastic) is well-known in the design industry for their flexible ability, you can mold it in a wide variety of shapes (Freeform). It is Venustas, strong,  does not stretch, shrink, or swell, and can be made into many different surfaces and colors such as gold, rust, copper, green rust, Higross, etc.
SSP power has a team of experts in Fiberglass and GRP Cladding 3D.Our services include Construction components molding, prefabricated walls, dome tops, supports, pediment, eaves, artificial wood, columns, columns head Cornice, Thai pattern mouldings, Ridge Capping roofs, cornices, ceiling Cornice, railings, door-window frames.
Design and installation of high-rise buildings, vertical and horizontal, and decorating the building Both inside and outside the building with Fiberglass and GRP
Shopping mall decoration
Hotel & Resort decoration
Residential Decoration
Hospital decoration
Churches temples cathedral decoration
Design and installation services both around the country and abroad
Design, manufacture, and install services using GRP products
Facade wall wrapping
Fiberglass columns
Escalator wrapping
Edges Void wrapping
Prefabricated GRP walls
Fiberglass Column and column Head
 door-window frames.
Wall cornice
Ceiling Cornice
Dome, support column, Gable, eaves
Construction components molding
GRP Cladding
Niches
Thai pattern moldings
Sculpture casting
Facade building wrapping
Columns wrapping
Fiberglass mannequins
Fiberglass product
Fiberglass molding
Fiberglass mannequins
Fiberglass product
Fiberglass molding
Custom made Fiberglass
Fiberglass columns
Fiberglass furniture
Seamless decor walls, seamless exterior decor
Exterior building wrapping material, Seamless walls
Large Fiberglass waterfall walls
Fiberglass plant pots
Fiberglass Column molding
Large model Casting
Mascot model Casting
Fiberglass Wall
Custom Wall
Large Backdrop Wall.
GRP Products: Glass Reinforced Plastic
GRP is a product that uses polyester resin to be molded into construction parts, of various shapes, and reinforced with fiberglass, decoration, and building decoration. with GRP products for interior and exterior applications such as
top of the dome
support column
Gable
eaves
Fiberglass Column and column Head
Ridge Capping
Niches
Thai pattern moldings
Wall cornice
door-window frames.
Building Material
GRP CLADDING 3 D
ฺBuild as needed
We have direct experience both domestically and internationally. And have a group of leading architects in the country trust us. can produce the workpiece according to the desired design
Consultation on products and design
Contact Mr. Prachaya 089-204-7472 , 02-159-6043
Structural and building decoration with GRP products
Architectural GRP by SSP POWER
Top of the dome | Eaves Curved | Base Trim: spiral
streaked | Ridge Capping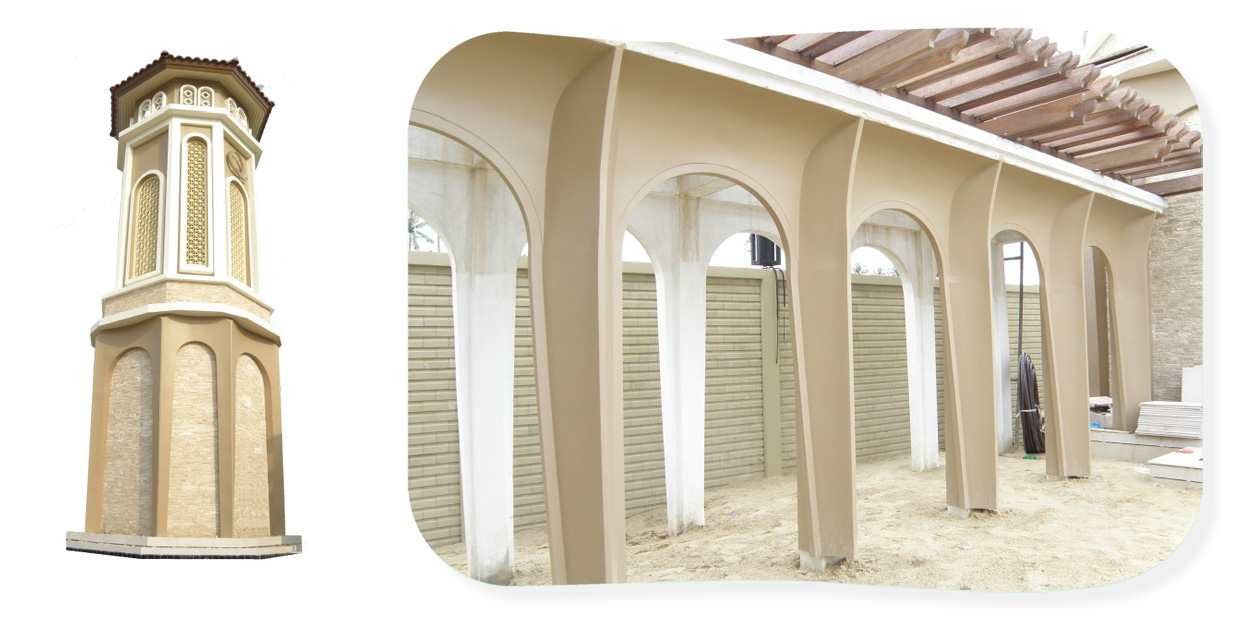 Prefabricated GRP walls | GRP columns  | Niches |  GRP of Ceiling Cornice
GRP Cladding | GRP Bending
ฺBattens GRP | Artificial wood GRP | Eaves
The circle area of Skywalk Siam Discovery